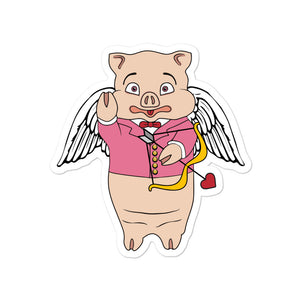 The Rudy's Bar & Grill Cupid Pig Sticker is for that romantic dive bar lover. It features our famous pig mascot Baron Von Swine who stands outside our location in Hell's Kitchen, NYC dressed up as cupid. These stickers are printed on durable, high opacity adhesive vinyl which makes them perfect for sticking almost anywhere. The high-quality vinyl also ensures there are no bubbles when applying to your favorite stickers spot.
This item only ships to the USA
Cupid Pig Sticker
• High opacity film that's impossible to see through
• Fast and easy bubble-free application

Don't forget to clean the surface before applying the sticker.
Classic Pig Sticker Size guide
Height (inches) 4"
Width (inches) 3.77"